KEVIN SPACEY
Actor Kevin Spacey has heavily guarded the truth about his sextuality for several years. He has always successfully stated that his reason for not disclosing the truth is based on the fact that he prefers to keep certain matters, private.
Backtrack to Sunday October 29th 2017 and Kevin suddenly lifts the" ban on his right to privacy", by saying and I Quote:
"I choose now to live as a gay man".
A VERY YOUNG ANTHONY RAPPThis self induced revelation only came about after he was  accused of a sexual advance he had made towards a then, 14 year old Anthony Rapp, 31 years ago. Several reports have followed Kevin`s sudden coming out story and his categorized as an intentional distraction from  the accusation and is clearly a damaging conflation of homosexuality and pedophilia.
ANTHONY RAPP                                                                                   KEVIN SPACEY
Kevin Spacey`s timing and clever 'non-apology' has been criticized by Hollywood, the gay community and the global audience as his attempt to cover up an egregious crime. Most people are angry at the news organizations that have chosen to focus on Kevin`s coming out story, instead of rightfully staying on topic by spotlighting Anthony Rapp`s sexual misconduct allegations against Kevin Spacey.
Buzzfeed News reported on Sunday that, Actor Anthony Rapp said, Kevin Spacey made a sexual advance toward him in 1986, when Anthony was only 14 years old. He revealed that, Kevin , who was  26 years old at the time, picked him up, placed him on a bed and climbed on top of him.
Kevin Spacey​s answer to Anthony Rapp`s accusations after declaring amnesia is as follows:
 "But if I did behave then as he describes, I owe him the sincerest apology for what would have been deeply inappropriate drunken behavior". "The accusation has encouraged me to address other things about my life".
Kevin then decided to use this as an opportunity to publicly divulge for the first time that he had, had several romantic associations with men by saying:
"I have loved and had romantic encounters with men throughout my life."
Kevin then went on to release this statement through his twitter account. He said: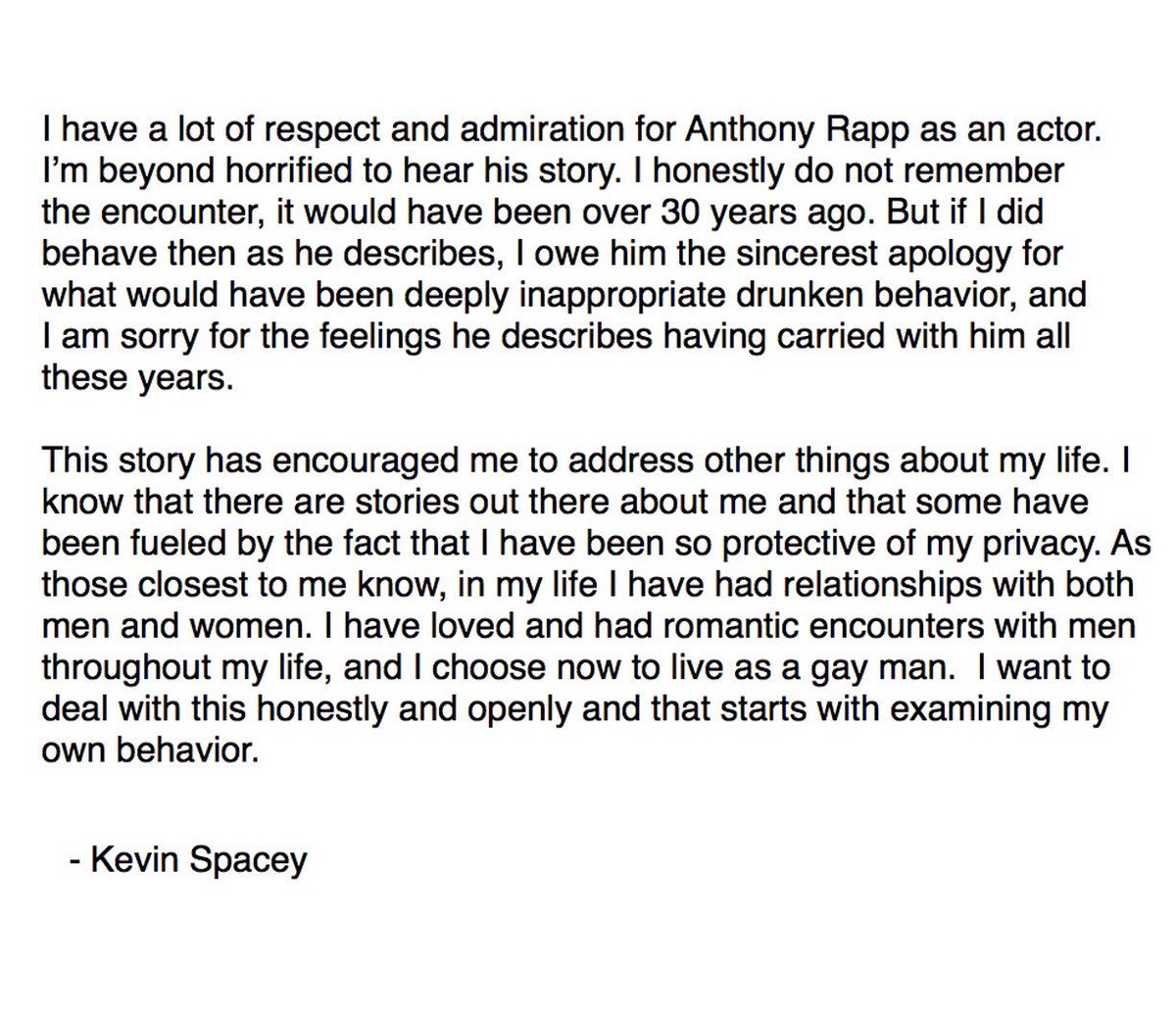 Gay rights activists and show business associate are focused on directing attention towards the crime that Mr. Spacey may have committed 31 years ago. This is a direct statement from president and chief executive of gay rights organization, Glaad –  Sarah Kate Ellis. She said,
I quote:
"Coming out stories should not be used to deflect from allegations of sexual assault," "This is not a coming out story about Kevin Spacey, but a story of survivorship by Anthony Rapp and all those who bravely speak out against unwanted sexual advances. The media and public should not gloss over that."
End quote.
George Takei, a celebrated actor in his own right said:
"Men who improperly harass or assault do not do so because they are gay or straight — that is a deflection," "They do so because they have the power, and they chose to abuse it."
When a Journalist for The Daily Beast – Kevin Sessums asked Mr. Spacey questions regarding his sexuality and never got a straight answer.
Kevin Sessums said:
"We gay men have always proudly claimed you as a member of our tribe, and yet you don't proudly claim us back," Mr. Sessums said. "Why?"
Mr. Spacey's response was:
"Look, I might have lived in England for the last several years but I'm still an American citizen and I have not given up my right to privacy."
When the Journalist pressed him for a truthful answer, Kevin  Spacey continued to evade Mr. Sessums' questions and instead said:
I quote:
"No one's personal life is in the public interest," Mr. Spacey said. "It's gossip, bottom line. End of story."
End quote.
KEVIN SPACEY IN UNUSUAL SUSPECTS