PRINCE HARRY AND AMERICAN ACTRESS, MEGHAN MARKLE ANNOUNCE THEIR ENGAGEMENT
Prince Harry and American actress, Meghan Markle are finally engaged! Kensington Palace, announced the good news this morning.
Prince Harry is fifth in line to the throne and reportedly got engaged to Meghan Markle, earlier this month. The wedding will reportedly take place in the Spring of 2018 and they will live at Nottingham Cottage in Kensington Palace, in London.
AMERICAN ACTRESS AND HUMANITARIAN: MEGHAN AND HER FIANCE, PRINCE HARRY
Prince Charles, Prince Harry`s father made the announcement, saying that, Prince Harry had also informed his grandmother, Queen Elizabeth and the rest of the royal family.
Prince Charles said: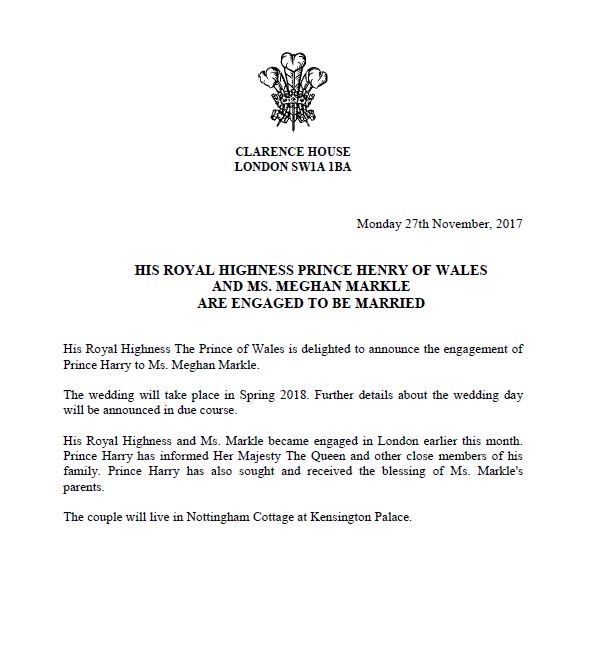 MEGHAN MARKLE AND HER MOTHER, DORIA RADLAN, ON THEIR WAY TO LONDON
The couple started dating, last summer. Prince Charles is said to be quite thrilled with Prince Harry`s proposal and happily disclosed on Twitter that, Meghan Markle`s parents have graciously given Harry,  their consent.
PRINCE HARRY KISSES HIS FIANCE – AMERICAN ACTRESS, MEGAN MARKLE AT THE 2017 INVICTUS GAMES
Prince Charles added that, only the queen and certain members of the family knew about the engagement which took place in London, earlier this month.
The engaged couple will be available for photographs outside Kensington Palace this afternoon and will take part in a broadcast interview, in the evening.
Ms Markle's parents, Thomas Markle and Doria Ragland, said their daughter was a "kind and loving person" and they were "incredibly happy".
They added:
"To see her union with Harry, who shares the same qualities, is a source of great joy for us as parents."
PRINCE HARRY AND MS. MEHAN MARKLE
Since the announcement of the happy couple's engagement this morning, everyone from royal correspondents to Twitter users have been passing comment on Ms. Markle's mixed-race heritage.
In 2015, she wrote a first-person piece for Elle magazine explaining how she feels about it.
In part, she spoke of having to fill out a "census" for her English class, with the only options of black, white, Hispanic, or Asian.
"You could only choose one, but that would be to choose one parent over the other – and one half of myself over the other."
Her teacher told her to pick Caucasian, because – in the teacher's view – that's what she looked like. But a young Meghan refused.
"So, I didn't tick a box. I left my identity blank – a question mark, an absolute incomplete – much like how I felt. When I went home that night, I told my dad what had happened. He said the words that have always stayed with me: 'If that happens again, you draw your own box."
PRINCE HARRY AND MEGHAN MARKLE, THIS AFTERNOON, AFTER THEY ANNOUNCED THEIR ENGAMENT
Prince Harry said it had been a romantic proposal, while Ms Markle said she was "so very happy, thank you".
Ms Markle, wearing a white belted coat, held Harry's hand as they appeared briefly for the press at the palace's Sunken Garden, and showed off her diamond engagement ring.
Asked by a reporter when he knew Suits star Ms Markle "was the one", Prince Harry said: "The very first time we met".
PRINCE HARRY AND MEGHAN MARKLE WILL ANNOUNCE THEIR ENGAGEMENT, LATER TODAY
The Archbishop of Canterbury – Justin Welby, whose predecessor officiated at the Duke and Duchess of Cambridge`s wedding in 2011, wished them "many years of love, happiness and fulfillment".
A Buckingham Palace spokesman said:
"The Queen and Duke of Edinburgh said they were "delighted for the couple and wish them every happiness."
Prince William and Catherine, Duchess of Cambridge, said:
"We are very excited for Harry and Meghan", adding: "It has been wonderful getting to know Meghan and to see how happy she and Harry are together."
A CLOSE UP LOOK AT THE ENGAGEMENT RING, PRINCE HARRY PLACED ON  MEGHAN MARKLE`S FINGER, EARLIER THIS MONTH
Kensington Palace said Ms Markle's engagement ring was designed by Prince Harry and features two diamonds which belonged to his late mother, Diana, Princess of Wales.
At the center of the ring is a diamond from Botswana, a country the couple has spent time together over the last year and a half. The band is made of gold.
What do you think? Share your opinion, Comment, Like, Follow and Subscribe.